Perry's Monument
Perry's Victory and International Peace Memorial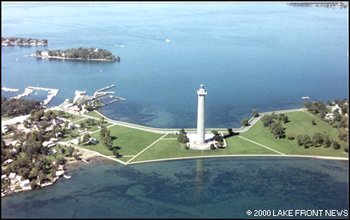 On September 10, 1813 Commodore Oliver Perry's improvised fleet of nine American vessels defeated and captured a British flotilla of six ships a few miles northwest of Put-in-Bay. The Battle of Lake Erie proved to be the turning point of the War of 1812 in the Old Northwest. Perry's decisive victory neutralized the British naval presence on Lake Erie.
In 1910, as the centennial of Perry's victory approached, the State of Ohio formed a commission to raise funds to construct a monument to commemorate the battle and the peace. The Ohio commission solicited the aid and financial backing of eight additional states, plus that of the federal government. A design competition was sponsored under the auspices of the newly formed U. S. Fine Arts Commission, its first ever competition, and the design by associated architects Joseph H. Freelander and A. D. Seymour was selected.
In October, 1912, construction was initiated by the John C. Robinson & Sons Construction Co. The monument was completed in June 1915 at a cost of $480,374.00. The monument stands 352 feet above Lake Erie and is comprised of 78 courses, of pink granite from Milford, Massachusetts, and is capped with an 11 ton bronze urn.
Interred beneath the rotunda floor of the monument are the remains of three Americans and three British officers killed in the battle.
Perry's Victory and International Peace Memorial is open daily from mid May to late October. There is a fee of $3.00 for the elevator ride to the observation platform, 317 feet above the lake.
Perry's Victory & International Peace Memorial was declared a national monument on July 4, 1936 by President Franklin D. Roosevelt. Symbolizing nearly two centuries of peace between the United States and Canada, the monument is administered by the U. S. Department of the Interior, National Park Service