HISTORIC LYME VILLAGE...
"Preserving Yesterday For Tomorrow"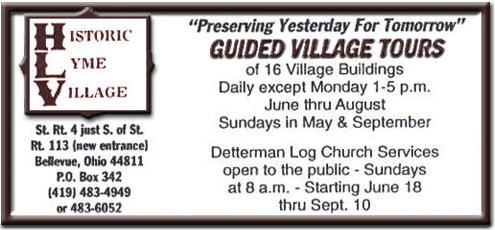 Guided Village Tours
Visit re-created historic Lyme Village. Tour the 16 village buildings including log houses, barns, one room school, log church, stores, Victorian Wright Mansion and Seymour House Museum. Take part in a full schedule of events - Victorian Tea, Pioneer School, antique Car Show and Flea Market, antiques Show, Pioneer Days with Civil War Re-inactments, Halloween and Christmas events. Summer schedule of 8:00 AM church services in the Log Church. School and group tours thru out.
Open Daily except Mondays, June thru August, and
Sundays in May & September from 1:00 - 5:00 PM
Detterman Log Church Services open to the public
Sundays at 8 a.m. - Starting June 18 thru Sept. 10

State Route 4 just South of
State Route 113 Bellevue, Ohio

(419) 483-4949 or 483-6052

www.lymevillage.com




Home Page | Ads | Events | Free | Maps | News | Sales | Directory | E-mail
1999-2022 © Barb Clemons-Publisher, P.O. Box K, Port Clinton, Ohio 43452
Print pages for reference on your Ohio Lake Erie Vacation. Maps may
not be to scale. All graphics are property of Lake Front News.